Maps and public transport
UNSW has a number of campuses, all easily accessible by public transport. We recommend planning your trip in advance to ensure that you have plenty of time to get to your classes. Limited parking is available and is marked on the maps below.
During Orientation Week there are campus tours available which will help you to become familiar with the layout of the campus.  
For more information on how to get to the campus visit the Getting to Uni website.
UNSW maps
To help you find your way around campus download the Uni-Verse app - UNSW Australia's official mobile app. Get it today on Apple or Android. 
---
Metered parking
Kensington Campus metered parking is available at:
High Street - Gate 2, Gate 5 & Gate 8 
UNSW Parking Rule information.
---
Paddington Campus shuttle bus
The Paddington Campus (also known as UNSW Art and Design, formerly COFA) is centrally located on Oxford Street, Paddington and is easily accessible from the Kensington Campus. 
A courtesy shuttle bus operates between Paddington and UNSW Kensington campuses during semester, excluding public holidays. The shuttle bus stop is located at the Gate 8 entrance on High Street (UNSW Kensington) and at the Greens Rd entrance (Paddington). 
The UNSW Paddington Campus shuttle timetable is available here.
---
Getting to Uni - Sydney Buses
Stay up to date with changes to the Sydney Bus routes and diversions due to the East Sydney Light Rail Project via the Getting to Uni website and FM Assist wesbite.
Below are the list of buses from Sydney City and the surrounding suburbs to UNSW. 
From Central Station (Eddy Avenue)
Stand D: UNSW Express 891 
Stand C: 391, 395
From Circular Quay (Alfred Street) 
Stand E: 391-2, 394, 397, 399
From Bondi Junction, Burwood, Rockdale, Eastgardens 
Bus: 400, 410
From Eastgardens, La Perouse, Little Bay 
Bus: 391, 392
From Sydenham, Bondi Junction 
Bus: 357
From Coogee, Newtown, Glebe, Leichhardt 
Bus: 370
From Wolli Creek, Bondi Junction 
Bus: 348
From Sans Souci, Eastgardens, City 
Bus: 302, 303
From Kingsford, Leichhardt 
Metrobus 10
From Coogee, Drummoyne 
Metrobus M50
Alternate services to/from City - Circular Quay
You can take routes 392, 394, L94, 396, 397 and 399. Routes M10 and M50 operate via City - Park Street.
---
Concession Opal card for tertiary students - Not available to International Student Visa holders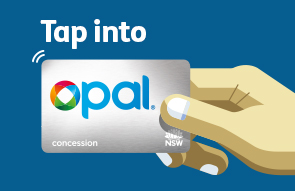 Students are required to give consent to UNSW to provide details of eligibility to Transport for NSW before they can apply for an Opal Concession card.
UNSW students who are eligible for travel concessions will able to provide their consent through myUNSW when enrolling.
International students cannot apply for a concession Opal card.
---
 UNSW Google Maps